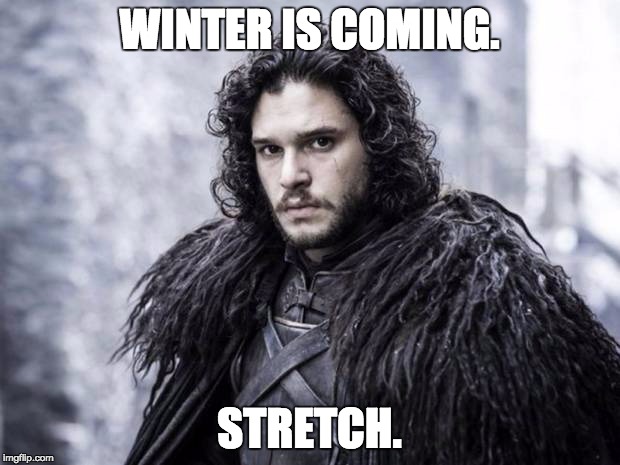 Winter may be upon us, but the colder temperatures are no reason to stop running outside; in fact, maintaining your running schedule even when temperatures drop has many extra benefits which include:
• Burning more calories;
• Strengthening your heart;
• Drinking more water;
• Get extra Vitamin D dosage;
• Happier and more energized; and
• Develop better warm-up and cool-down routines.*
*Of course this is Advanced Kinetics favorite benefit
Running is great exercise and makes your legs strong, toned, and, unfortunately, TIGHT. After many miles, those hardworking muscles can develop issues, scar tissue, and tension, slowing you down and paving the way for overuse injuries like tendonitis, muscle strains, muscle tears, and joint pain.
It's no secret that proper warm-up and cool-down movements are crucial to keeping the body in shape for the running sport, but they become even more important when it's cold outside to aid in injury prevention.
At Advance Kinetics, we recommend doing a dynamic warm up before you hit the trail or road, and then a series of static stretches after your run, when your muscles are loose.
So some might be asking "What is the difference"?  Dynamic warm ups are superior than static stretching for pre-activity to get your muscles activated and loose to prepare you functionally for your run.  Dynamic means "motion" and with these stretches you can properly warm up your muscles to brace the cold weather. Static stretching are not as beneficial as a warm-up because it does not prepare your body for the way it needs to function for the running activity. Static stretching are best at the end of your run which will bring your heart rate down, lessen muscle soreness, stretch tension, and cut your risk of injury.

Before you set out for your winter run, here are six dynamic warm up stretches to add to your training plan:
Dynamic Exercise #1: A SKIP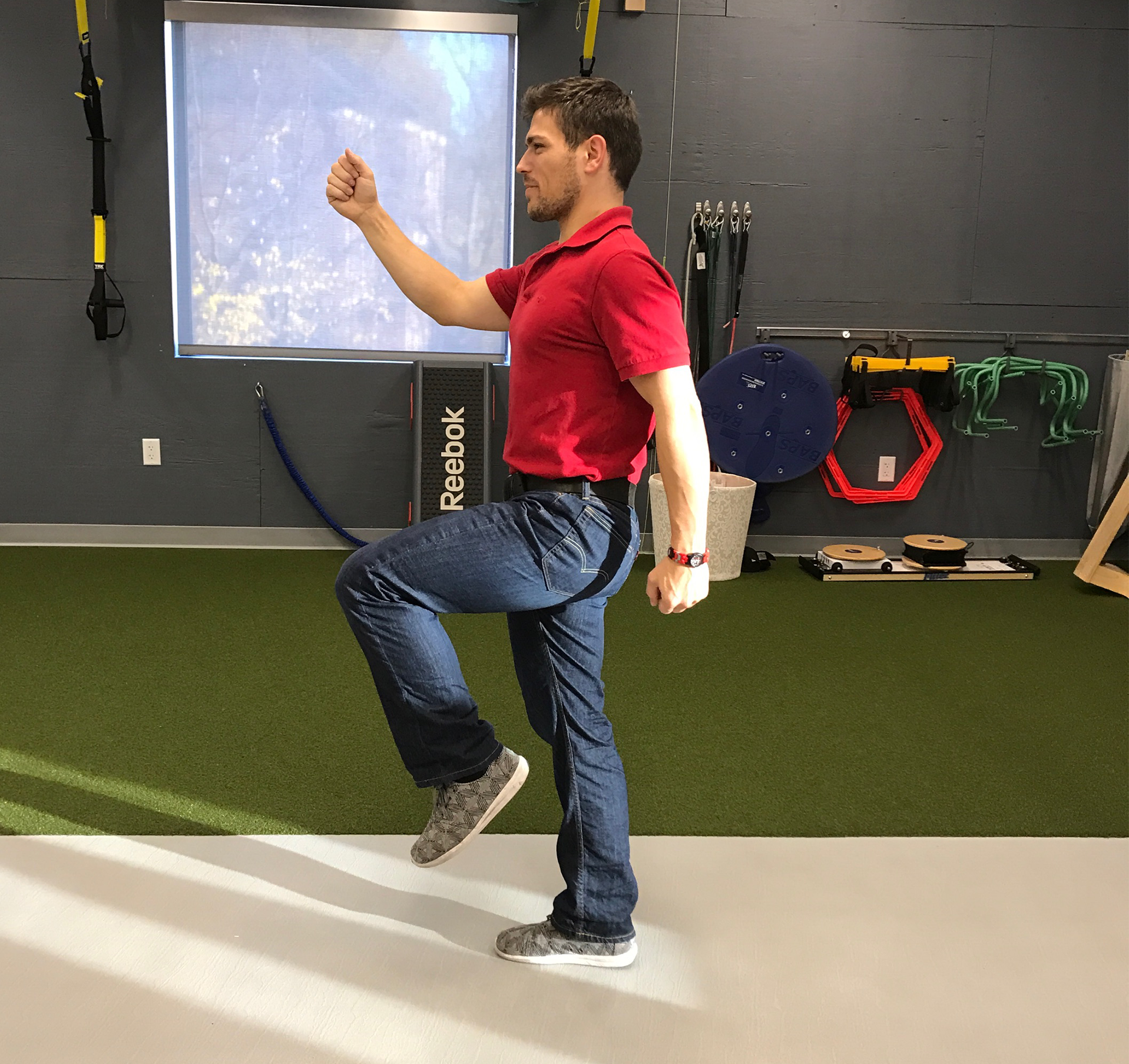 When doing the A-skip, pay attention to keeping posture upright and driving arms forward the same as you would when running. The idea is to skip keeping knees high. Drive the knee up high above the hip and bring it down fast. Once comfortable, a skip can be added in between steps. Instructions:  Perform over 50 yard length – 2x
Dynamic Exercise #2: B SKIP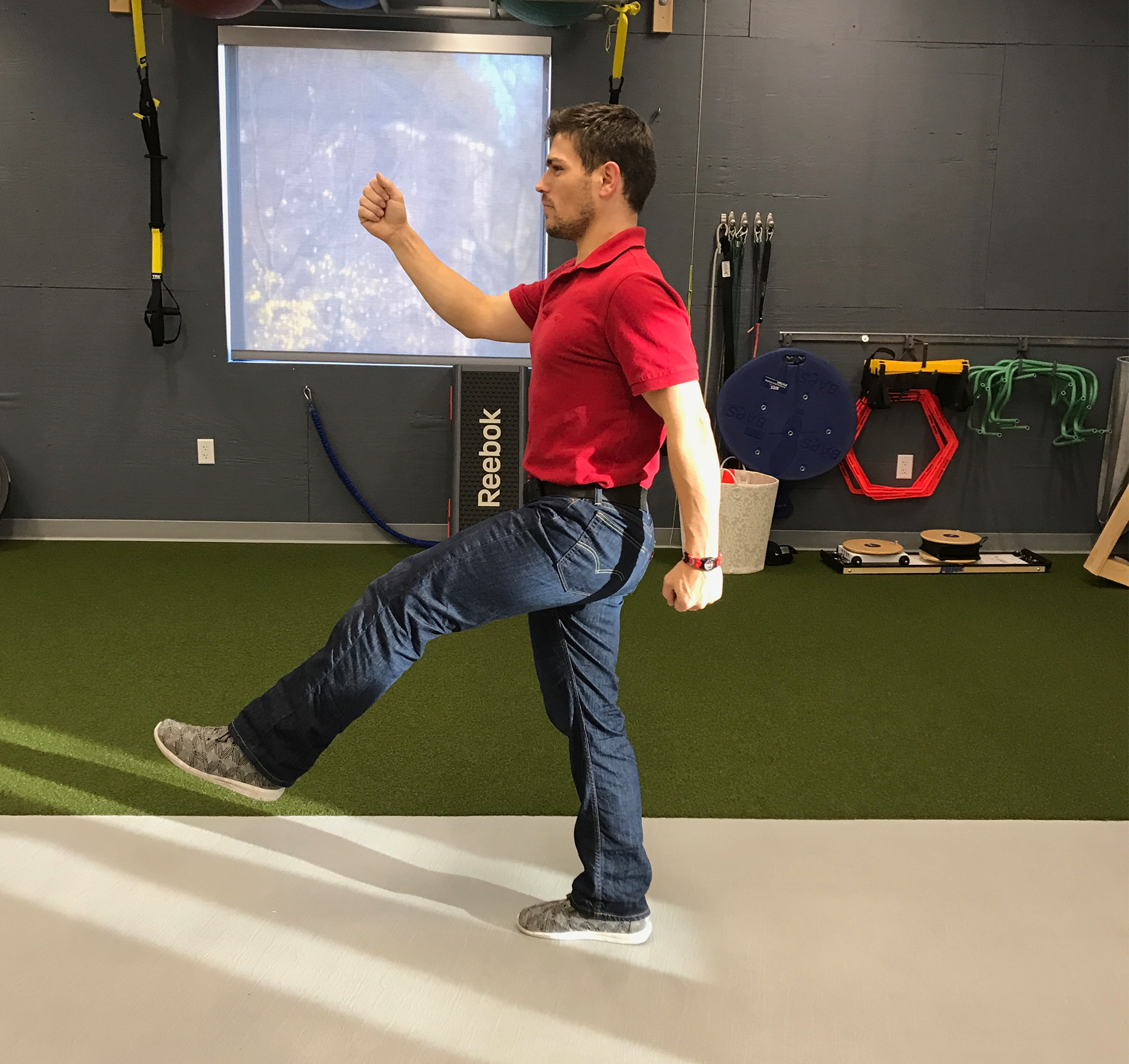 B-skips are a little more fancy than your basic A-skip. The first motion is the same. Drive the knee upward the same as you would with the first exercise. Instead of snapping it back down though, extend the leg and bring it back down striking the ground below with the forefoot and kicking back until it's aligned with the hip. When doing the B-skip, it should feel like the leg is moving in a circular motion. Instructions:  Perform over 50 yard length – 2x
Dynamic Exercise #3: Butt Kicks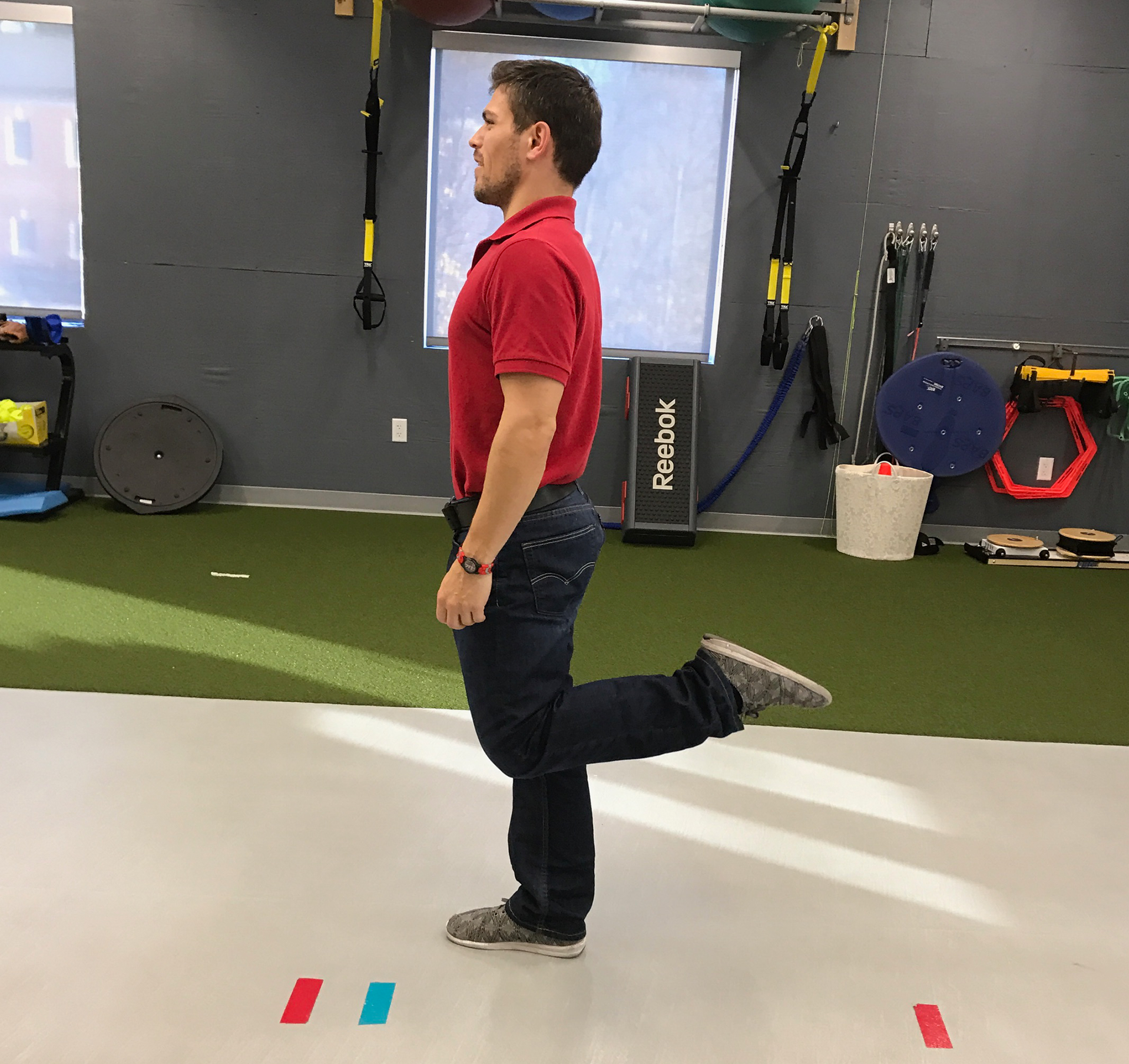 Stand with your legs shoulder-width apart. Your arms should be bent at your sides. Flex the right knee and kick your right heel up toward your glutes. Bring the right foot back down. As the right leg comes down, flex your left knee and kick your left foot up toward your glutes. Swing your arms as if you were jogging. Repeat.  Instructions: Perform over 50 yard length – 2x
Dynamic Exercise #4: Walking Windmill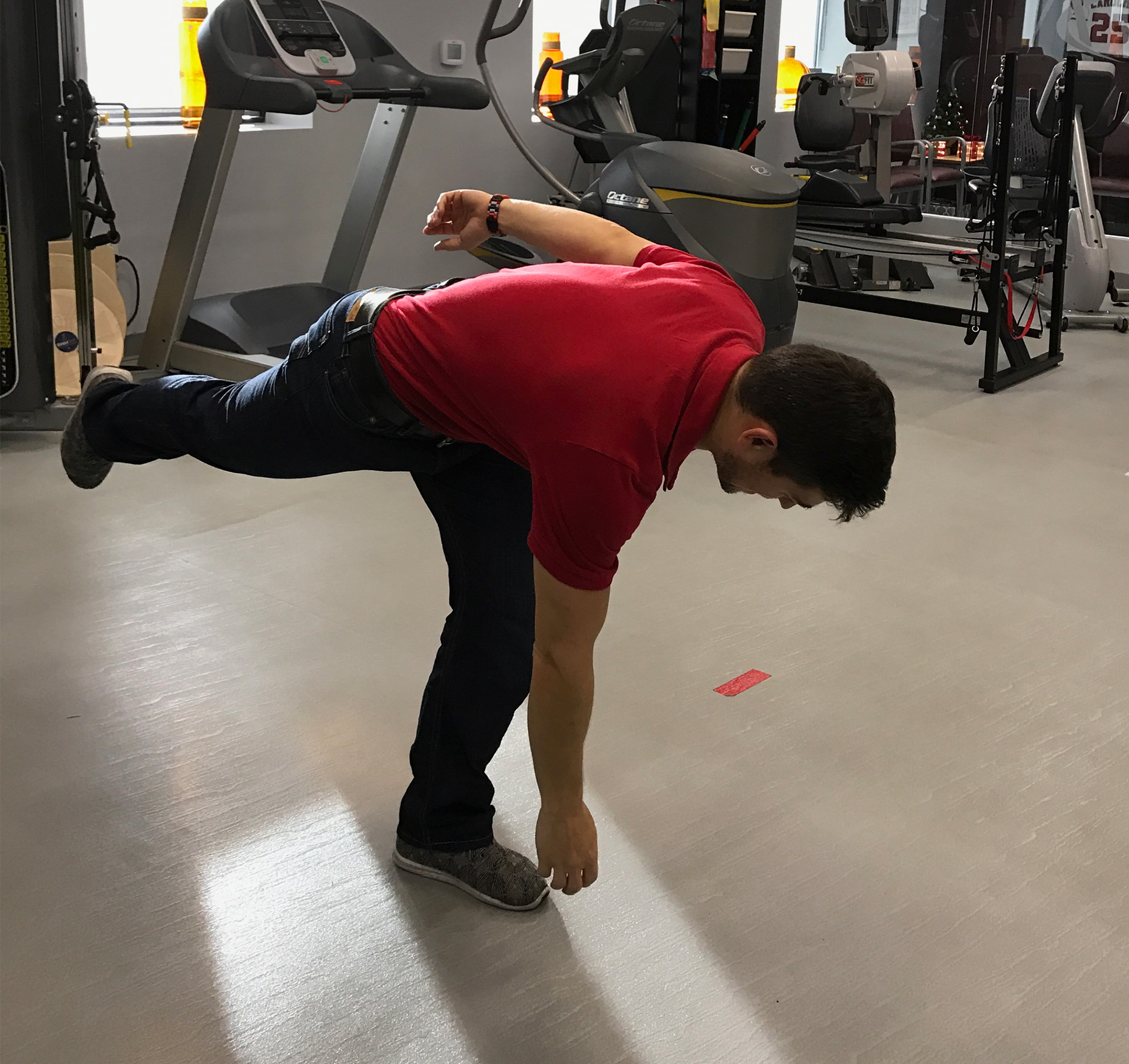 This exercise provides a very through stretch of the hamstring.  Start by reaching down towards the ground, cross body touching from right hand to left foot while swinging one leg behind you. Walk forward and repeat alternating left hand to right foot.  Instructions: Perform over 50 yard length – 2x

Dynamic Exercise #5: Walking Lunges – Forward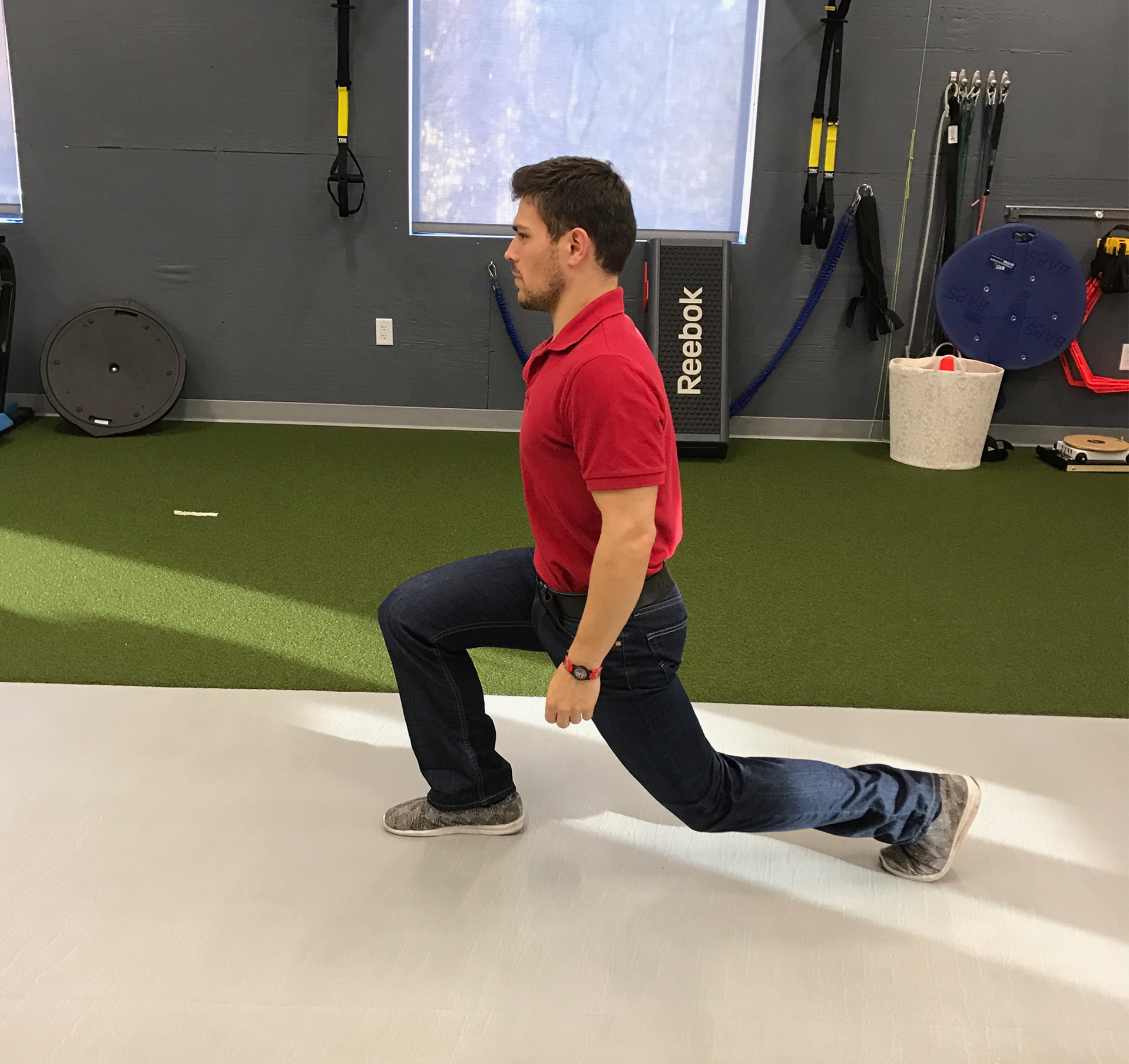 For the forward lunge, place your hands on your hips. Step one foot forward, bending your front leg as you lower your back knee toward the floor. Continue to walk lunge forward.
Dynamic Exercise #6: Walking Lunges – Sideways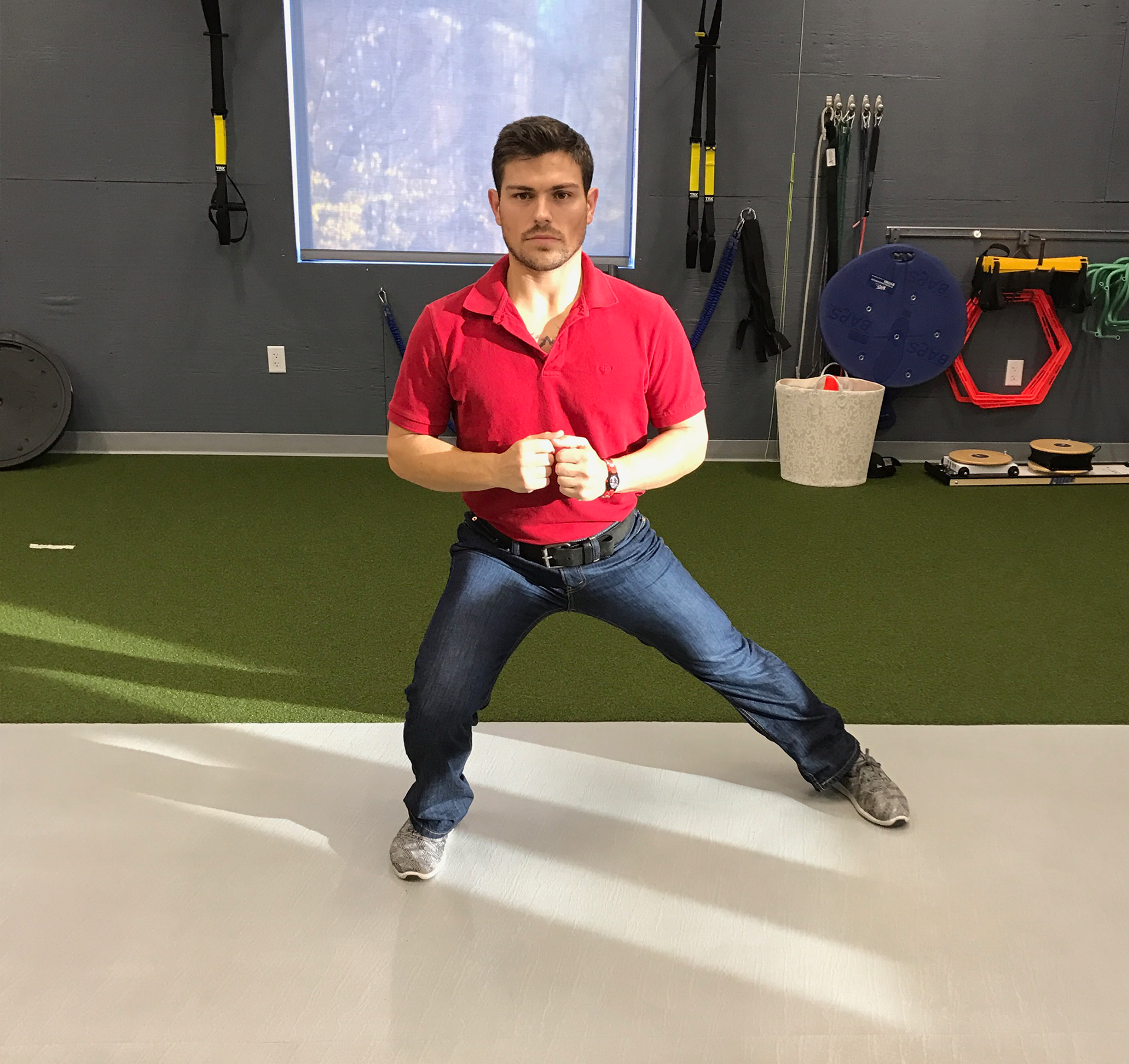 The lateral lunge is a side lunge in which you step directly to your right or left and then squat into a lunge position. By adding a walk and repeating the lunge during these stretches, you build not only strength but also endurance. Instructions:  Perform over 50 yard length – 2x


After you completed your run, cool down utilizing these four static stretches to relieve muscle soreness and prevent post-injury:
Static Exercise #1: Quadriceps Stretch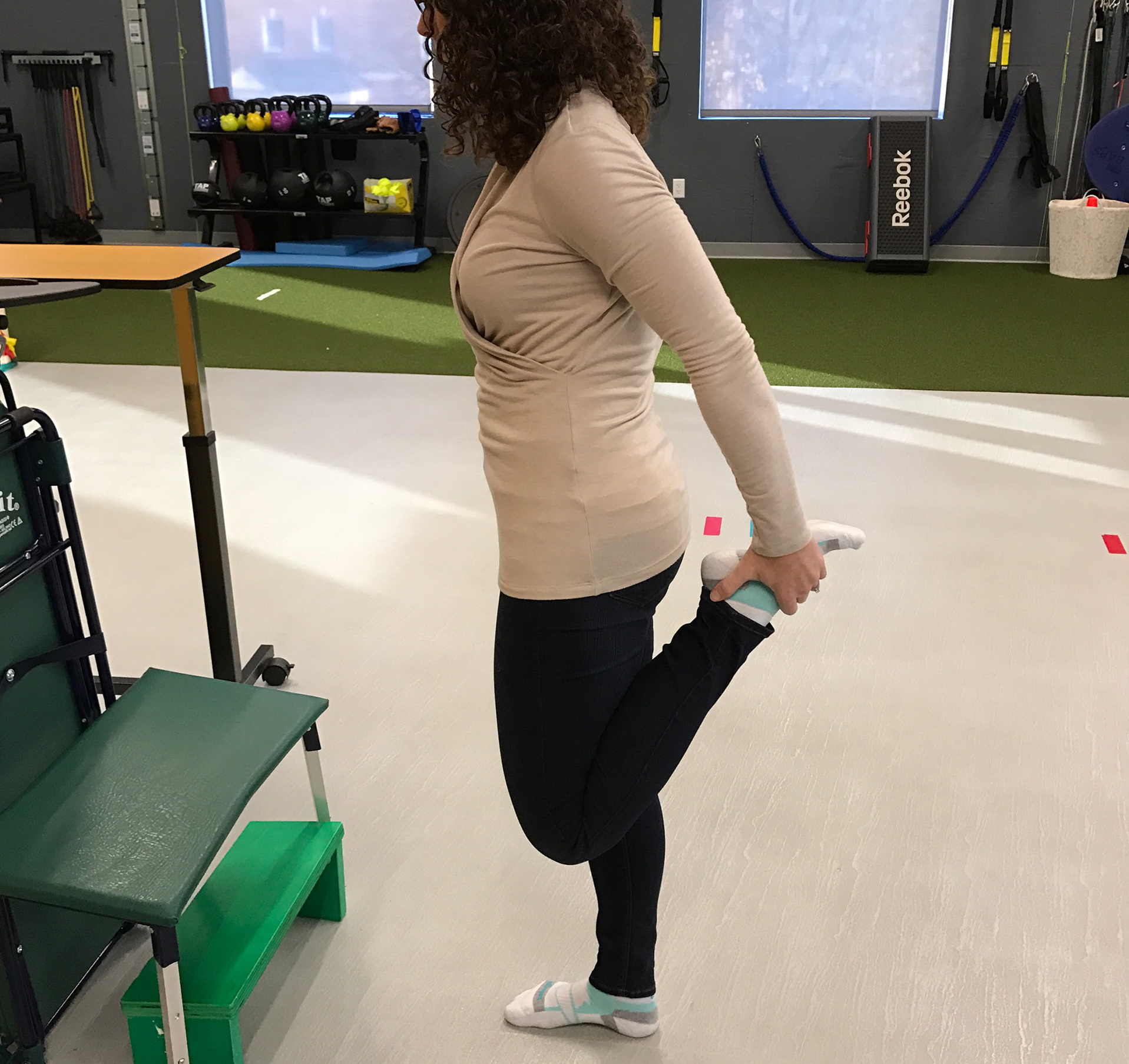 Stand on one foot, holding the back of a chair or wall for balance. With your free hand, hold the ankle of the stretching leg behind you. Pull your heel towards your bottom until you feel a strong stretch in the front of your thigh. Instructions: Hold for 30 second for each side – 3x

Static Exercise #2: Standing Hamstring Stretch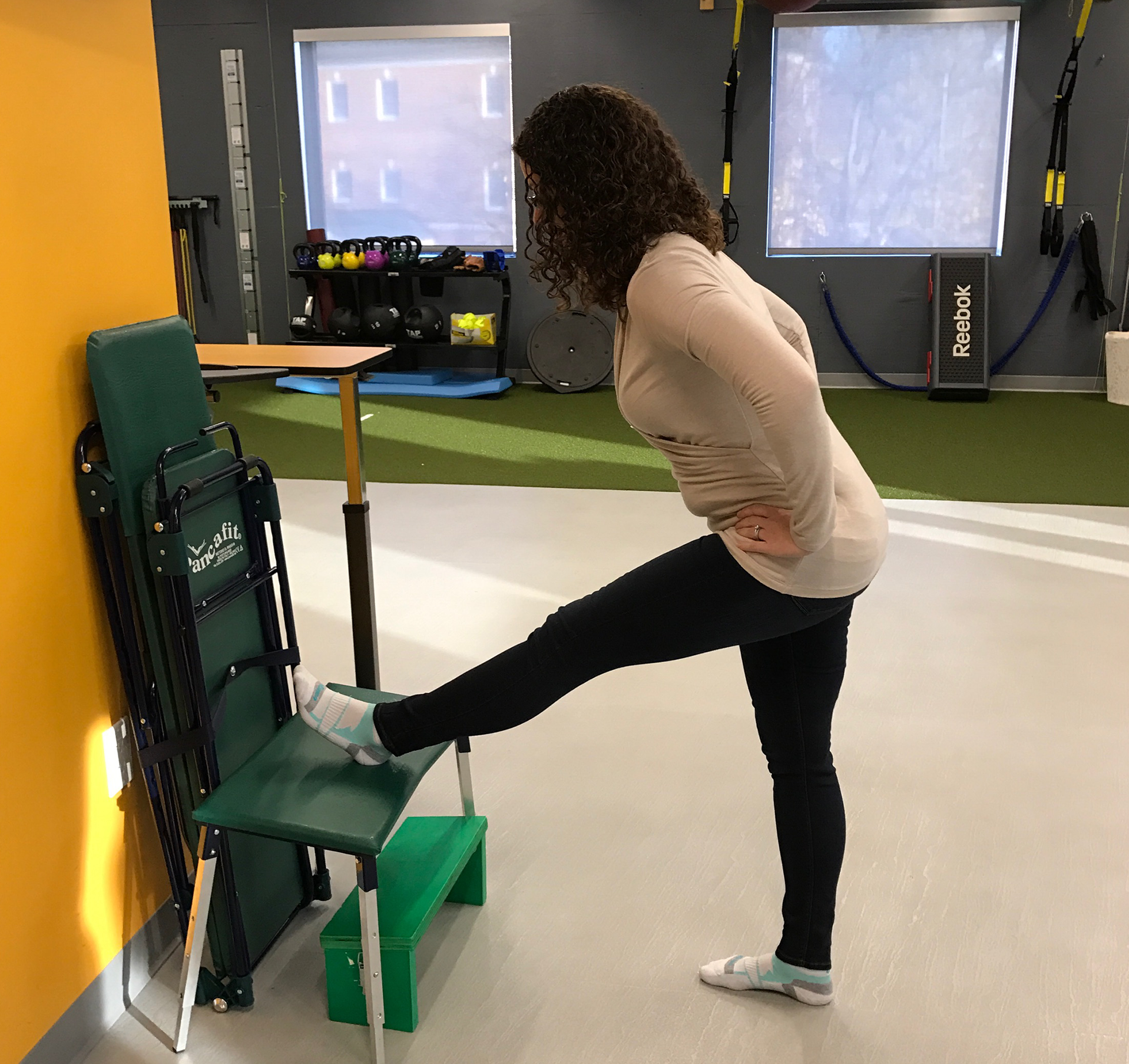 Lean forward from your hips, and rest both palms on top of your right thigh for balance and support. The standing hamstring stretch targets your rear-thigh muscles. Keep your shoulders down and relaxed; don't round your lower back. You should feel a mild pull gradually spread through the back of your leg. Instructions: Hold for 30 second for each side – 3x

Static Exercise #3: Calf Stretch

Stand facing a wall from several feet away. Stagger your stance, placing one foot forward. Lean forward and rest your hands on the wall, keeping your heel, hip and head in a straight line. Attempt to keep your heel on the ground. Instructions: Hold for 30 second for each side – 3x

Static Exercise #4: Glute Stretch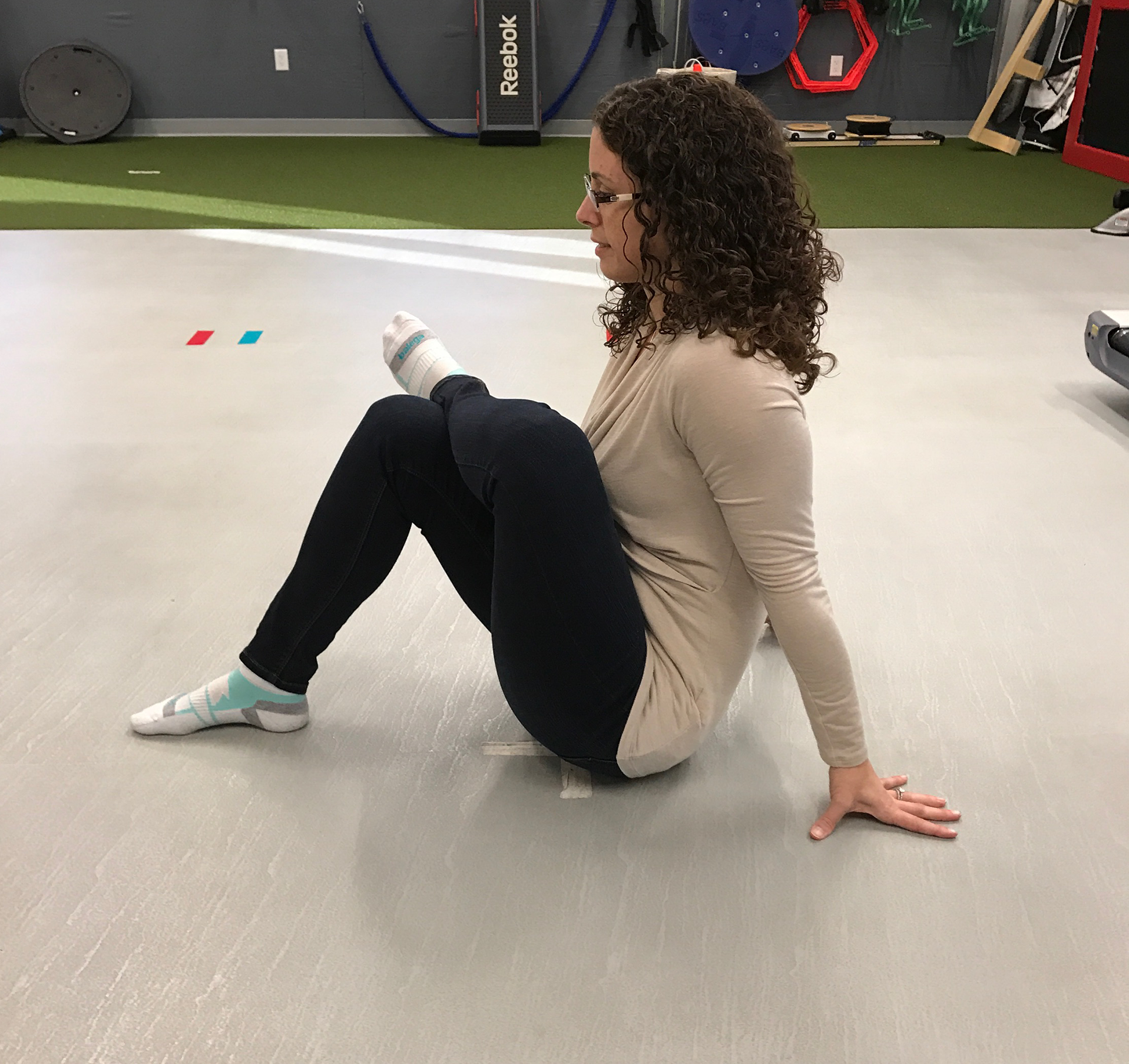 Begin seated on the ground with both legs extended. Bring your right knee up and over your left leg so that your right foot is on the ground. Keep the left leg extended. Hold your right knee with both hands and pull it into your chest. Instructions: Hold for 30 second for each side – Repeat 2x


For our more serious runners, AKPT offers in-depth running analysis using a two angled high speed video system and a wireless sensor system that will evaluate running gait, track ground reaction forces and correct any musculoskeletal dysfunctions. This evaluation will benefit all runners to make sure they have proper form and can avoid injury.
Give us a call today to learn more dynamic exercises or to schedule a running program analysis.
This blog will help you get the most out of your physical therapy and the community of Advanced Kinetics Physical Therapy and Sports Performance. AKPT is reinventing physical therapy, embracing all aspects of movement from treatment, into recovery and on to injury prevention. You may read this and think of your friends, family and coworkers. You may realize that AKPT can do more for you than you previously knew. Read. Share. Act. Use this reinvention of physical therapy to reinvent yourself and your peak performance.
Advanced Kinetics – Reinventing Physical Therapy