The sciatic nerve is the largest in the human body, starting in the lower lumbar region fo the back and extends down through the hips, buttocks, and legs, with branches that extend all the way down to the feet! Covering that much area of the body, no wonder sciatica pain is one of the most common types of injuries that physical therapists see.
Do I have sciatica pain? What are the symptoms?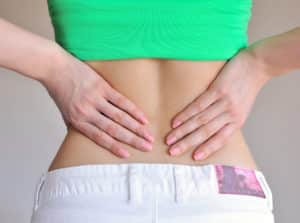 Sciatica is a generic term that is given to any irritation of the sciatic nerve, which means that the symptoms of sciatica can vary greatly. Dull pain in the back, intense sharp pain in the back or down the leg, numbness, and tingling can be symptoms of sciatica. The level of pain can range from discomfort to excruciating, and being that the pain is nerve related, it can send sharp pain down the back of the leg. The radiating pain can be intermittent or constant at times.
If you or somebody you know is suffering from sciatica pain, there are some things that you can do to help relieve the pain until you can seek professional medical help. Below we have outlined 6 tips to help relieve your sciatica pain.
1. Avoid making your sciatica pain worse
Often times when somebody is suffering from sciatic nerve pain, they try to stretch the muscles surrounding the leg to alleviate the pain. That can temporarily provide relief, but you may be doing more harm than good. To anybody untrained, stretching a nerve more than it already is can cause damage and should only be done if directed by a medical professional with experience and knowledge. Until you can seek the advice of a professional, avoid doing anything that puts unnecessary stress on the irritated nerve.
2. Core strengthening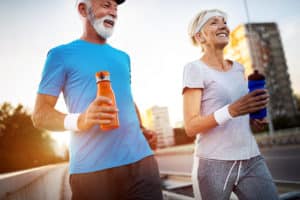 Strong back, abdominal, and lumbopelvic muscles can help alleviate sciatica pain. These muscles are key components in this muscular network and provide the strength to keep the body upright and moving forward. Strengthening your core will help to promote healing and decrease pain.
Exercises to target your core will improve the stability of the lower back and pelvis thus reducing strain on the sciatic nerve.  At AKPT we use DNS (dynamic neuromuscular stabilization) to activate the whole corset of muscles from front to back to maximize stability of your back. These exercises should be part of a well-balanced back and abdominal exercise program and will go a long way in helping to prevent sciatica injuries in the future.
3. Reduce inflammation
Sciatica pain can present itself in odd ways, sometimes without one specific area of pain. Wherever your pain may be, there are ways to reduce inflammation and decrease discomfort: NSAIDs, ice, heat, and rest. Nonsteroidal anti-inflammatory drugs are amongst the most common in use today and can help soothe the pain associated with sciatica while decreasing the inflammation and swelling, helping to promote healing. Ice should be used for the first 48 hours, in 10-minute increments every few hours, and then a switch to heat after the initial 48 hours. And finally, rest. I know that it is hard to come by, but the best way to help heal, reduce inflammation and feel relief from sciatica pain is to rest.
4. Posture
If you sit at a desk all day, chances are you don't sit straight. But proper posture is very important! Support your lower back with a cushion or lumbar roll to ease pressure on your sciatic nerve and if possible, avoid sitting in chairs that allow you to slouch. Many offices today are exploring the idea of standing desks where much of your work is done from a desk that you stand behind.
5. Stay mobile
While you don't want to aggravate your sciatic nerve more than it is, you don't want to sit or stand in one position for too long. Prolonged posture builds tension in your body, muscles, and joints. Moving will help blood flow which promotes healing, and you will help your muscles to ease their tension. Our bodies are designed to move, not remain stationary – so move around!
6. Seek professional help from a certified physical therapist
The most important thing that you can do for a sciatic nerve issue is to seek medical advice from a physical therapist. The quicker that you can get help, the quicker that your pain will go away. You don't want a long-term issue to develop, and even if you have been suffering for a long time with sciatic nerve pain, a physical therapist can still help.
If you are suffering from sciatica, make sure to find a highly trained, professional physical therapist. At Advanced Kinetics our dedication is to help individuals reduce pain, increase function, prevent injury and to maximize physical performance. Our two Washington D.C. metropolitan locations in McLean and Falls Church provide the highest level of care for patients and athletes of all ages. Call us at (703) 988-4664 to schedule your appointment or learn more about our practice.
This blog will help you get the most out of your physical therapy and the community of Advanced Kinetics Physical Therapy and Sports Performance. AKPT is reinventing physical therapy, embracing all aspects of movement from treatment, into recovery and on to injury prevention. You may read this and think of your friends, family and coworkers. You may realize that AKPT can do more for you than you previously knew. Read. Share. Act. Use this reinvention of physical therapy to reinvent yourself and your peak performance.
Advanced Kinetics – Reinventing Physical Therapy