Most likely you have never considered visiting a physical therapist unless you had pain, an injury, or referred by a doctor, and most people don't have a trip to the physical therapist on their list of yearly check-ups like a dental appointment. But did you know that more and more people are going to physical therapy to keep their bodies in peak condition and to spot and prevent injuries before they can become an issue?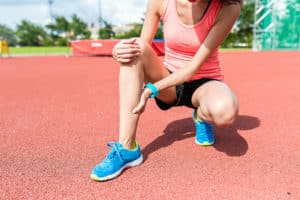 Every year, our physical therapists at AKPT treat a variety of conditions that range from neck and back pain to knee injuries and Achilles tendinitis. Our highly skilled therapists have a keen eye and often times are capable of spotting potentially risky symptoms and helping to further prevent injuries before they begin.
Most people understand that physical therapists are trained to evaluate movements in the body and identifying asymmetries and deficits in posture, motions, balance, and strength. What many don't recognize is that these identifiable deficits usually exist prior to the onset of pain, meaning that some musculoskeletal pain and injuries are preventable. Physical therapists are the most qualified health care professionals to work on prevention for both adults and children. During the summer months, we see a larger number of sports-related injuries in children due to the increased number of activities. Last month we highlighted the importance of keeping young athletes hydrated during the summer. but we must also remember that with the increased physical activities comes a great chance of injury, and the best way to prevent injury is to schedule a visit with your physical therapist to go over exercises that can strengthen the body and look for early signs of issues.
The Washington Post recently wrote an article highlighting the staggering number of ACL injuries related to youth basketball, which AKPT was highlighted for our rehabilitation and prevention of athletes with ACL tears.
It is common for most people to schedule an annual physical, eye exam, and dental appointments, but many don't think about scheduling an injury prevention screening. Our yearly injury screens can be performed by our highly qualified physical therapists to assess your current physical condition and advise on clients' on course to reach their full health potential.
Our highly-skilled physical therapists enjoy helping their patients meet their pre and post-injury goals. Some of our injury prevention programs include:
OVERHEAD THROWING ATHLETE: A 6-week program designed to address the specific needs of the overhead throwing athlete. With baseball season in full swing, now is the time for pitchers to maintain their arm health and monitor the shoulder and elbow for any deficits that may lead to injury. Our OTA services also include video analysis, screening for prevention exercises, correction drills, and follow-up sessions. Also available for teams, coaches, clubs, and will perform the program onsite or in our Falls Church location.


ACL INJURY PREVENTION PROGRAM: F. A. S. T ™ Female Athlete Sports Training Program is offered for male and female athletes, athletes transitioning to return to sports, and teams/clubs on site or in the clinic. ACL screen includes several prevention exercises, video analysis, and follow-up sessions. Just as with the Overhead Throwing Athlete program, our ACL program is also available for clubs, teams, coaches, or parents, and is available either on-site or in our Falls Church location.

RUNNING PROGRAM: A comprehensive biomechanical evaluation, video analysis, and dorsaVi sensor technology are used to evaluate your running gait. These will be performed to identify any dysfunctions contributing to your running injury or to help you improve on your running performance. Our running program includes: evaluation and video analysis, one follow up session, corrective exercises.
If you are interested in learning more about our injury prevention services, please call us at (703) 988-4664 for more information about our programs and pricing!
This blog will help you get the most out of your physical therapy and the community of Advanced Kinetics Physical Therapy and Sports Performance. AKPT is reinventing physical therapy, embracing all aspects of movement from treatment, into recovery and on to injury prevention. You may read this and think of your friends, family and coworkers. You may realize that AKPT can do more for you than you previously knew. Read. Share. Act. Use this reinvention of physical therapy to reinvent yourself and your peak performance.
Advanced Kinetics – Reinventing Physical Therapy