Pain. It's something we all experience. But just like a trip to the movies or a Disney vacation, everyone's pain experience is a little different based on their past exposures, age, and physiological make up. This is because pain intensity is determined by the brain.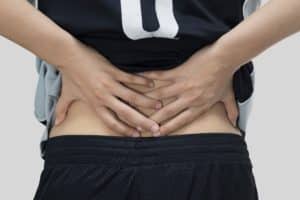 Pain is determined by complex interactions involving the location of injury and our nervous systems. During acute injury, our body senses pain through receptors called nociceptors. These receptors then send a signal to our spinal cord. If the receptors send a large enough signal to our spinal cord, the spinal cord then sends it to our brain which then determines if this signal is worthy of a pain response or not. Think of it like a conversation happening between two people seated 30yds apart. If the individuals were unable to move from their seats, they would have to yell, jump up and down, and repeat themselves to be fully heard by the other person at the other end of the room. If person number 2 is busy or distracted, they might not find the information from person number 1 very important unless that persons sounds like they really need to be heard.  
These pain signals are sent back and forth from the nociceptors in the tissue and the brain. The brain uses it's known information at the time to help determine if it's worthy of a pain response. For example, if you feel safe and you are not stressed your body may have a lower pain response than if you are in a different mental state. You may also feel less pain on the opposite side of the spectrum, for example, if you were in a life or death situation and the pain would distract you from saving your own life.
So how does pain become such a constant in some of our lives? It is not a straight forward process, but pain scientists have determined that once our brain decides that a region is worthy of a pain response, the tissue actually grows more nociceptors to further detect potential damage. This response is geared through protecting the injury site, but tends to result in larger impulses being sent to the nervous system creating a cycle of pain at that site. When this happens, people can fall into a category of "Chronic Pain." This chronic pain is influenced by their nervous system, their emotional response to the pain response, and if they feel they will get better.
Pain science is complex, but the more you know the closer you are to recovery! If you're used to thinking about pain as damage = pain, this can be a lot to take in! Check out the YouTube videos below that can help give a visual descriptor of what was talked about here.  The therapists at Advanced Kinetics are skilled at assisting with long term and chronic pain conditions. If pain has been impacting your life, we are here to help. Make an appointment and find your physical therapist today!
This blog will help you get the most out of your physical therapy and the community of Advanced Kinetics Physical Therapy and Sports Performance. AKPT is reinventing physical therapy, embracing all aspects of movement from treatment, into recovery and on to injury prevention. You may read this and think of your friends, family and coworkers. You may realize that AKPT can do more for you than you previously knew. Read. Share. Act. Use this reinvention of physical therapy to reinvent yourself and your peak performance.
Advanced Kinetics – Reinventing Physical Therapy