Magnetic Resonance Imaging (MRI) is a non-invasive imaging technology that produces 3D detailed anatomical images. It is often used for disease detection, diagnosis, and treatment monitoring.  MRI's identify structural abnormalities that may be contributing to pain. Recently, numerous studies have shown that such abnormalities are common in people without pain, raising the question of whether these findings are incidental. Radiologist and surgeons generally agree on the interpretation of MRIs, but sometimes there are significant differences between interpretations.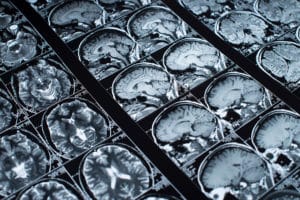 MRI scanners are used to image the non-bony parts or soft tissues of the body. MRIs employ powerful magnets, producing a strong magnetic field that forces protons in the body to align with that field. When a radio frequency current is then pulsed through the patient, the protons are stimulated, spin out of equilibrium, therefore straining against the pull of the magnetic field. When the radio frequency field is turned off, the sensors are able to detect the energy released as the protons realign with the magnetic field. Physicians are able to tell the difference between various types of tissues based on these magnetic properties.  The brain, spinal cord and nerves, as well as muscles, ligaments, and tendons are seen much more clearly therefore, this is the reason MRI is often used to image knee, hip and shoulder injuries and was low back disc injuries.
In a recent study, the focus was to determine comparative MRI findings across both shoulders of individuals with unilateral shoulder symptoms. This study used over 120 individuals from the sample who had self-reported unilateral shoulder pain with no signs of adhesive capsulitis (frozen shoulder), no substantial range-of-motion deficit, no history of upper-limb fractures, no repeated shoulder dislocations, and no neck-related pain. Images were obtained in various planes and independently/randomly interpreted by 2 examiners: a board-certified, fellowship-trained orthopedic shoulder surgeon and a musculoskeletal radiologist. Absolute and relative frequencies for each MRI findings were calculated and compared between symptomatic and asymptomatic shoulders. Agreement between the shoulder surgeon and the radiologist was also determined.
Findings of abnormal MRI were highly prevalent in both shoulders. Only the frequencies of full thickness tears in the supraspinatus tendon (one of the rotator cuff tendons) and glenohumeral osteoarthritis were higher in the symptomatic shoulders according to the physicians findings. 
In conclusion, most abnormal MRI findings were not different in frequency between symptomatic and asymptomatic shoulders. These results are important for clinician when considering diagnostics and treatment planning. 
Another study focused on MRI imaging results for degenerative changes which are commonly found in spine imaging. These changes are found in both pain-free individuals as well as those with back pain.  Imaging findings of spine degeneration are present in high proportions of asymptomatic individuals, increasing with age. Many imaging based degenerative features are likely part of normal aging and are unassociated with pain. 
Given the large number of adults who undergo advanced imaging to help determine the etiology of their back pain, it is important to know the prevalence of imaging findings of degenerative disease in asymptomatic populations. Such information will help both clinical providers and patients interpret the importance of degenerative findings noted in radiology reports.
This blog will help you get the most out of your physical therapy and the community of Advanced Kinetics Physical Therapy and Sports Performance. AKPT is reinventing physical therapy, embracing all aspects of movement from treatment, into recovery and on to injury prevention. You may read this and think of your friends, family and coworkers. You may realize that AKPT can do more for you than you previously knew. Read. Share. Act. Use this reinvention of physical therapy to reinvent yourself and your peak performance.
Advanced Kinetics – Reinventing Physical Therapy