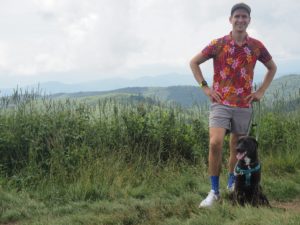 When I look at this photo from mid-July, all I can think is, "That guy has no idea what's coming."  It's easy to smile in the mountains with a puppy, unaware that the lower back pain you had been starting to feel before and during a hike was actually an L5-SI herniation.
I plodded along with summer plans, stubbornly hiking (read: hobbling) out west.  By August I was unable to walk our pup around the block without severe discomfort in my back and down my leg.  There had been a lot of pain and little gain.  I had to get back to physical therapy.
I'm unfortunately the kind of runner/person who has bounced in and out physical therapy for a variety of issues.  I've seen my fair share of practices for my fair share of hurt, inflamed, and broken parts.  So I mean it when I say that I have never been to a practice quite like Advanced Kinetics.  And that's a good thing!
I've been working with Caitlin since August (with the exhilarating round of dry needling from Kwang thrown in here and there).  During that time, I feel like I haven't just been doing exercises to get better- I have actually learned about what happened, what I need to do to fix it right now, and what I need to do to be stronger in the future.  I ask Caitlin a lot of questions and express to her a lot of concerns (in person and in follow-up emails) and always feel like they're addressed.  It's been very empowering.  Due to the atmosphere at AKPT, it's also been fun.
I started turning the page around Thanksgiving.  I've become a pilates regular at my neighborhood studio, which isn't something I ever thought I'd say, but totally dig.  I'm regularly cycling on the indoor trainer and have begun to start a return-to-running program, which has been amazing.  I do my PT exercises religiously every morning.  I can take the pup on 5 mile hikes.  I still have a ways to go, but I am confident knowing that I'll be doing so with AKPT.
This blog will help you get the most out of your physical therapy and the community of Advanced Kinetics Physical Therapy and Sports Performance. AKPT is reinventing physical therapy, embracing all aspects of movement from treatment, into recovery and on to injury prevention. You may read this and think of your friends, family and coworkers. You may realize that AKPT can do more for you than you previously knew. Read. Share. Act. Use this reinvention of physical therapy to reinvent yourself and your peak performance.
Advanced Kinetics – Reinventing Physical Therapy