Not just for tennis players, tennis elbow is a common tendonitis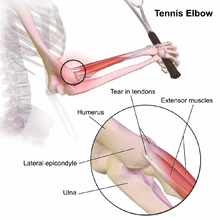 Officially known as lateral epicondylitis (LE), tennis elbow is a classic repetitive strain injury affecting the combination of the tendons and muscles in the back of the arms and the outside of the elbow. These muscles and tendons are critical to a lot of movements, including lifting the wrist and extending the fingers. Tennis elbow is the most commonly diagnosed elbow condition and many patients wait many months before seeking formal treatment!
Tennis elbow is a painful condition that can appear anywhere from the forearm and into the outside part of your elbow. Mechanisms of this injury include prolonged use of the wrist and hand such as playing tennis, more day-to-day routines such as operating machinery with levers, or even typing on a computer. Symptoms can either occur suddenly or appear gradually. Symptoms of tennis elbow can also be referred from the cervical spine from poor posture and other cervical dysfunctions, especially in chronic cases.
Signs and symptoms of tennis elbow
Lifting, twisting, and pulling activities can cause pain to occur very quickly. However, symptoms usually come on gradually due to repetitive movements. Symptoms of tennis elbow may include:

Difficulty gripping objects

Pain that radiates down into the forearm and wrist

Elbow stiffness

Increased difficulty or pain with common tasks – holding a glass of water, opening a jar, grabbing silverware

General weakness in your forearm
How physical therapy can help your tennis elbow
While you are waiting for your visit with the physical therapist, there are a couple of things that you can do to help alleviate your pain and soreness during the immediate onset of your injury:

Changing your daily activities to rest your arm more so that the muscles and tendons can begin to heal

Elastic support to help brace the forearm and wrist to reduce the pressure on the muscles and tendons and force you to not use the muscles.



The key to treatment of tennis elbow is to keep the tendon from breaking down any further – the goal is to help the tendon heal. If the pain is severe, we may refer you to an orthopedic doctor or sports medicine doctor for further diagnosis. However, non-surgical treatment can be extremely effective, especially if you get to your physical therapy shortly after the injury occurs. If left untreated, the tendonitis may become chronic and the condition may cause years of disability.
The first thing your physical therapist will do is to reduce the pain and swelling – manual treatments will help loosen up the muscles that have spasmed since your injury.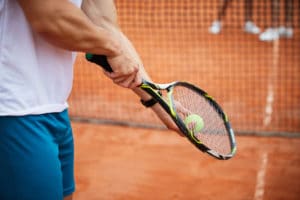 During the next phase of treatment, your physical therapist will show you exercises and stretches to do both in the clinic during your visits and at home to help strengthen and stretch the muscle tissue. These exercises will increase and improve range of movement, and as the pain subsides, bands and weights will be used to help regain forearm and grip strength. A common tool to use for tennis elbow exercises is the therabar which provides resistance for multiple exercises of the wrist and forearm.
Often times, tennis elbow is caused by an overcompensation of the wrist/forearm due to weak muscles and weak postural control muscles. This can be from the way that an athlete handles a bat or stick during sports, or even at home lifting heavy objects. If your back, trunk and shoulder muscles are weak, you may overcompensate and lift from your wrist, causing strain on a joint that is not meant for that type of strain.
A big part of physical therapy for tennis elbow is to regain mobility of the surrounding joints, strength and stability in proximal muscles to that the distal muscles down the arm are not overused. This will lead to less stress on the injured arm muscles, allowing you to get back to activities and avoid re-injury. A full screen of the cervical spine to ensure there is no referral from the neck and also a postural program inclusive of core exercises will be provided by your physical therapist.
Recovering from tennis elbow
Coming back from a tennis elbow injury is a lot of work, but if done correctly with your physical therapist, you will be stronger and better than before. You will have the exercises and knowledge to try to prevent a tennis elbow injury from reoccurring. Preventing tennis elbow is very possible by keeping proximal muscles and joints strong with regular conditioning and workouts.
This blog will help you get the most out of your physical therapy and the community of Advanced Kinetics Physical Therapy and Sports Performance. AKPT is reinventing physical therapy, embracing all aspects of movement from treatment, into recovery and on to injury prevention. You may read this and think of your friends, family and coworkers. You may realize that AKPT can do more for you than you previously knew. Read. Share. Act. Use this reinvention of physical therapy to reinvent yourself and your peak performance.
Advanced Kinetics – Reinventing Physical Therapy