Your posture is the foundation for how you sit, walk, jump and RUN.

And, despite what your mother and third-grade teacher preached, it's much more than just keeping your shoulders back. Posture is active and greatly influenced by your mobility and strength.
Pavel Kolar's Dynamic Neuromuscular Stabilization (DNS) focuses on relearning motor patterns established in a baby's first years of life. For example, when comparing an adult's squat versus a baby squat, the baby has perfect form. We tend to lose the ability to squat perfectly when we start sitting all day long in school and later at work. DNS uses these developmental principles to improve strength and core stability.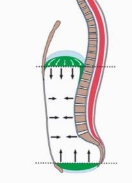 DNS places large emphasis on posture and diaphragm positioning through maintaining the diaphragm directly over the pelvic floor while creating intra-abdominal pressure through diaphragmatic breathing. Similar to belly breathing, diaphragmatic breathing involves filling the abdominal cage with air to create pressure on all sides of the torso. This allows you to use the pressure from the air that you breathe to your advantage to create stability.
For runners, one of the biggest precursors to injury is poor posture. Many runners end up in an anterior pelvic tilt while they run. This creates increased stress placed upon the low back and legs, decreased muscle efficiencies, and places the lower body in a poor biomechanical position. Learning how to control your posture and breathing while running can improve landing mechanics.
Runners that land with their legs directly underneath their body have a much lower rate of injury.
One way to improve your landing mechanics is to run, instead of jogging. People tend to have improved running mechanics when they run fa
ster since they are spending less time in contact with the ground and moving more efficiently. It can be more beneficial to your body to perform interval running/walking for 20 minutes as opposed to jogging at a slow pace for the same amount of time. It is an excellent workout while placing your body at less of a risk
Are you suffering from running injuries? Do your knees and back hurt after running? Let AKPT assess your form and running mechanics through high speed video and wireless sensors for a full body assessment to create an individualized corrective program utilizing DNS principles. 
This blog will help you get the most out of your physical therapy and the community of Advanced Kinetics Physical Therapy and Sports Performance. AKPT is reinventing physical therapy, embracing all aspects of movement from treatment, into recovery and on to injury prevention. You may read this and think of your friends, family and coworkers. You may realize that AKPT can do more for you than you previously knew. Read. Share. Act. Use this reinvention of physical therapy to reinvent yourself and your peak performance.
Advanced Kinetics – Reinventing Physical Therapy