Overuse injuries having been plaguing pediatric sport for the last two decades. As of 1996, nearly 50% of all injured individuals under 18 years old were classified as Overuse injuries. That's an astounding number since the majority of overuse injuries are avoidable. Let's talk about what exactly an overuse injury is and how you can spot it.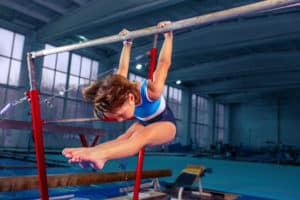 An Overuse injury is an injury caused over a period of time from overtraining, incorrect equipment, or inadequate rest. Overuse injuries can occur in any age group but the pediatric population is especially prone to them because they are still growing. Overuse injuries typically occur where tendons attach to bones, but can also occur at the end of long bones or at ligamentous attachments based on the sport or activity. The reason pediatrics are at increased risk of overuse injuries is because their growth plates, or epiphyses, are still open. This causes their bone to be softer and more prone to injury than mature, adult bone. Because of these boney differences between children and adults, pediatrics are prone to a few specific overuse injuries that adults do not get. The most common are: Osgood Schlatter, Little League Elbow, Little League, Shoulder, Severe's Disease, and Gymnast's Wrist. Though this list is not all inclusive, these are very common overuse injuries seen in pediatric sport.
In competitive sport, pediatric athletes can often feel external pressure to keep playing even if they have some pain. This is especially true if they are competing at high levels. As a parent, it is important to keep track of how often your child has rest or recovery days. To limit overuse injuries, pediatrics should not be practicing more hours a week than their age. If your child starts to complain of pain, use this guide to help distinguish if you should seek medical services. Remember: Seeking medical services early, at the onset of pain, can help improve healing and reduce the amount of time your child is unable to participate in the activities they love.
Pediatric Injury Screen for Parents
   

Is the area hot, red, or look inflamed?

   

Does the pain last for more than an hour after practice?

   

Is the pain consistent with activity?

   

Have you needed to give your child medication for the pain on multiple occasions?

   

Has your child's practice/game schedule or intensity changed in the past 2-4weeks?
If you answered yes to any of these questions, seeking physical therapy services is recommended. We can help identify risk factors to your child's injury and help prevent an overuse injury before it gets any worse.
This blog will help you get the most out of your physical therapy and the community of Advanced Kinetics Physical Therapy and Sports Performance. AKPT is reinventing physical therapy, embracing all aspects of movement from treatment, into recovery and on to injury prevention. You may read this and think of your friends, family and coworkers. You may realize that AKPT can do more for you than you previously knew. Read. Share. Act. Use this reinvention of physical therapy to reinvent yourself and your peak performance.
Advanced Kinetics – Reinventing Physical Therapy