With a new school year starts a new wave of youth athletes getting back into their sports or getting involved with athletics for the first time. Whether you're a coach, a parent, or an athlete yourself, it's important to make sure passion and dedication for a sport do not result in a pattern of overworking the body and ignoring health and safety guidelines. 
What Are Some Common Youth Sports Injuries?
It's important to know about common sports injuries and their symptoms so you can keep an eye out for these symptoms. Symptoms that are debilitating like being unable to walk after an ACL tear are inherently easier to spot than something like lightheadedness after a concussion. These are some common youth sports injuries and possible symptoms:
Ankle Injury
Swelling, bruising, pain, redness, loss of movement and strength, tingling, numbness, difficulty going up and down stairs.
Elbow Injury
Pain, tenderness, or swelling during movement or rest, difficulty bending or extending the elbow, redness, warm to the touch, bruising.
Concussions
Headache, pressure, nausea or vomiting, balance problems, dizziness, double or blurry vision, sensitivity to light or noise, memory problems, brain fog, fatigue.
Broken Bones
Visibly out of place or misshapen joint or limb, swelling, bruising, bleeding, intense pain, numbness, tingling, limited mobility or inability to move a limb or bear weight.
Shin Splints
Shins that are painful to the touch, pain that worsens during or after exercise and improves with rest, aching or dull pain down the front of one or both legs.
ACL Tears
Knee pain and swelling shortly after injury, loss of full range of motion, discomfort while walking, and sometimes knee "giving out." 
Knee Injury
Pain, swelling, stiffness, redness, warm to the touch, weakness, instability.
This is not a conclusive list so if your athlete is experiencing something not on the list or you aren't sure if it's a serious injury, it's always better to be safe than sorry and get it checked out by a physician or athletic trainer.
How Can Youth Athletes Avoid Injury And Fatigue?
Always Stretch And Warm Up
Warming up isn't just to get your mind in the zone before a game, it actually serves an important purpose for your body. Warming up as the name implies physically warms up the body. Your body temperature increases, your muscles contract more easily as they become warmer, your joints loosen up, the blood supply to your muscles increases, and your blood releases more oxygen that will be needed for exercising. Warming up prepares the body for the more intense activity you are about to participate in and gives it a chance to adjust before jumping straight into action. Taking warm-ups and stretches seriously as an athlete is an important step in injury prevention.
Pay Attention To Overuse
Many youth sports have established regulations when it comes to repetitive and consistent motions. For example, most little leagues have pitch counts which are guidelines for how many pitches a pitcher can throw. These guidelines exist to help prevent injuries from overuse. If your child's sport does not have any established regulations, they're on multiple teams/leagues at once, or they play multiple sports that utilize the same repetitive motions, it's important for you to advocate for your child and make sure they are being overworked across all of their teams. Overuse can very quickly lead to injury.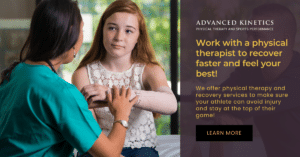 Promote And Prioritize Rest
Dispel the myth with your athletes that rest equates to laziness. Rest is not only essential for the mental health of athletes but for their physical health as well. This includes rest between training days and rest between seasons. Overworking their bodies does not make them stronger, it actually has the opposite effect. Rest allows the muscles in your body to repair and strengthen. Without proper rest time the hard work athletes do to train will not yield the results they're looking for. Additionally, overworking strained muscles can result in injury. Instill a hard work ethic in your athletes while also educating them about the importance of rest and recovery and its benefits for the mind and body. 
Don't Power Through An Injury
This one can be tough to follow through with, depending on the environment of the sport. There is a very strong 'shake it off and power through' mentality when it comes to injuries in youth sports. It's important to remember that after an injury it shouldn't be the word of the coach, well-meaning bystanders, or even parents if an athlete keeps playing, but rather the clearance of an athletic trainer or physician. Not giving an injury the proper rest and recovery time it needs can potentially lead to long-term damage. In addition to responding to feelings of pain, it's important to instill into young athletes the habit of speaking up if they're feeling symptoms such as lightheadedness, fatigue, imbalance, dizziness, or memory loss after a fall or potential head collision. Ignoring the symptoms of a concussion can be very dangerous.
Where Can I Find A Physical Therapist For My Child Near Me?
If you're looking for physical therapy or recovery services for youth athletes, Advanced Kinetics Physical Therapy is here to help! We offer both rehabilitation and preventive services in Falls Church and McLean, Virginia. If your child has already suffered from an injury and is looking for rehabilitation services to prevent further injury and get them back on the field, we can help! We also have preventive programs designed for coaches and teams like our Overhead Throwers Injury Prevention and ACL prevention programs which are designed to address the specific needs of the overhead throwing athlete and field athletes. If you're interested in learning more about our overhead throwing prevention or rehabilitation options, please get in touch with us!
This blog will help you get the most out of your physical therapy and the community of Advanced Kinetics Physical Therapy and Sports Performance. AKPT is reinventing physical therapy, embracing all aspects of movement from treatment, into recovery and on to injury prevention. You may read this and think of your friends, family and coworkers. You may realize that AKPT can do more for you than you previously knew. Read. Share. Act. Use this reinvention of physical therapy to reinvent yourself and your peak performance.
Advanced Kinetics – Reinventing Physical Therapy