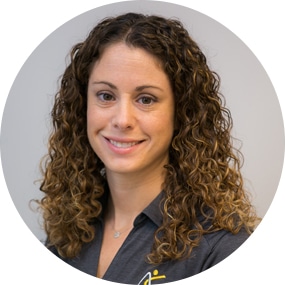 Angela T. Gordon PT, DSc, MPT, FAAOMPT, COMT, ATC, OCS, FMS has more than 16 years of clinical experience in orthopedic and sports physical therapy.
Dr. Gordon was a high school and collegiate athlete  suffering several injuries that lead her pursue a career in physical therapy.
She went on to earn her Bachelor's degree from Baldwin Wallace College in 2000 for athletic training, her Masters of Physical Therapy from Andrews University in 2002, and her Doctorate of Science from Andrews University 2012.
 Dr. Gordon earned her orthopedic manual therapist certification through NAIOMT in 2012. In 2012 Dr. Gordon received her functional dry needling specialist certification and in 2014 became Board Certified Orthopedic Clinical Specialist from the American Physical Therapy Association.
 In 2017, Dr. Gordon completed her fellowship with NAIOMT and is recognized by the American Academy of Orthopedic Manual Therapists.
 In April 2013 Dr. Gordon became a published author for an article in the IJSPT: Relationships between core strength, hip external rotator muscle strength, and star excursion balance test performance in female lacrosse players. Dr. Gordon's co authored a book chapter "Physical Therapy considerations Following Regenerative Medicine Interventions" in September 2017 in the textbook Regenerative Treatments in Sports and Orthopedic Medicine.
 Dr. Gordon has served as the lead physical therapist for the Washington Nationals Baseball in 2005 and from 2010-2015.  She works extensively with numerous professional and semi professional athletes from MLB, NFL, PGA, Canadian Football League, and European basketball players. She also works closely with many high school and collegiate overhead throwers and female athletes.
 Dr. Gordon is guest faculty with NAIOMT, teaching a specialty course for rehabilitation of overhead athletes and she has been invited to speak at a variety annual sports medicine conferences across the country.
Dr. Gordon is the owner and creator of F. A.S.T.™ (Female Athlete Sports Training program) and is physical therapy consultant to George Mason University Athletics.