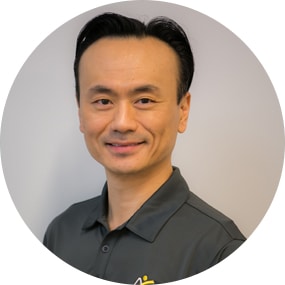 Kwang Han PT, MPT, SCS has 17 years of clinical experience in orthopedic and sports physical therapy. He earned his bachelor's of science from James Madison University . Mr. Han earned his Master's of Physical Therapy at Old Dominion University in 2001. Mr. Han is also a Certified Strength and Conditioning Specialist.
Throughout college Mr. Han had multiple surgeries including 2 ACL reconstructions. This is where he understood the importance of proper physical therapy and role of proper communication between the surgeon and therapist. Once he graduated, he focused his skills to the treatment of sports medicine patients by evidence based manual therapy techniques and movement patterns. He has earned the respect of many of the top orthopedic surgeons in the DC metro area allowing for great communication for patient care.
Mr. Han earned his certification in therapeutic Functional Dry Needling in 2013 that complements current treatments for relieving muscular trigger points to allow for quicker recovery. Mr. Han also performs custom fitting for foot orthotics and vestibular rehab.
He has worked with many professional mixed martial artists, professional dancers, professional soccer player, MLB players, and NFL football players. Mr. Han also co authored a book chapter "Physical Therapy considerations Following Regenerative Medicine Interventions" in September 2017 in the textbook Regenerative Treatments in Sports and Orthopedic Medicine.
Due to the personal injuries he has a passion to help patients get the best care to return to their pre-injury level.