What is the rotator cuff?
The rotator cuff if a group of muscles and tendons that surround the shoulder joint, allowing the shoulder to move while keeping it stable. This mobility and stability is needed for everyday activities but becomes extremely critical for athletes that put a lot of stress on their shoulders. The rotator cuff is one of the common injured areas that we treat at Advanced Kinetics.
What causes a rotator cuff injury?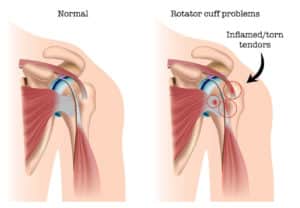 While athletes are often known to injury their rotator cuff, anybody that repeatedly performs an overhead motion during the course of their job or during the day is susceptible to a rotator cuff injury like painters, electricians, and carpenters. The risk of rotator cuff injury also increases as you get older.
Most rotator cuff injuries fall into one of these three categories: tendinitis, bursitis, and strains/tears.
Tendinitis is caused by the overuse of the rotator cuff causing it to become inflamed. This often happens to those that have to reach overhead often to perform their job.
Bursitis is an inflammation of the bursa, which is a fluid-filled sac that sits between the tendons of the rotator cuff and the shoulder bones.
Rotator cuff strains and tears are caused by overuse or an acute injury, like a fall, car accident, sports, or another sudden injury. These kinds of injuries usually cause intense pain.
What are common symptoms of a rotator cuff injury
There are few symptoms that are associated with a rotator cuff injury: pain when trying to rotate your shoulder for simple tasks such as combing your hair, reaching behind your back, or sleep on the shoulder; pain further down the outside of the arm from the shoulder; and difficulty sleeping due to throbbing pain.
Besides these symptoms, you may also notice swelling and tenderness in the front of your should, loss of strength, or a clicking sound when you raise your arm above your head.
What role does physical therapy play in a rotator cuff injury?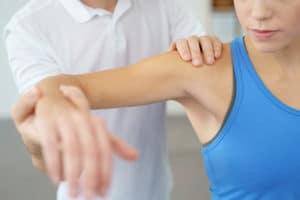 While physical therapy itself cannot heal a torn rotator cuff tendon, it does strengthen the shoulder muscles and restoring shoulder mechanics. By strengthening all the surrounding muscles, therapy can help compensate for the damaged tendons and improve the mechanics of the shoulder joint. It is also important for your physical therapist to focus on scapular strengthening as well as the scapula (shoulder blade) provides the foundation for shoulder stability.
Physical therapy has been shown to be an effective treatment option for rotator cuff injuries. Here at Advanced Kinetics, we provide patients with an individualized treatment plan that will contain exercises to improve the strength and control of the rotator cuff and scapular muscles. Your physical therapist will work with you to help retrain these muscles to keep everything in place while you use your shoulder, bringing your range of motion back.
In an ideal world, physical therapy treatment for a rotator cuff injury includes reducing pain; restoring motion, postureal training, and body mechanics; and reconditioning of the shoulder so that you can return living your life and using your shoulder as you were before.
Physical Therapists in Virginia for your Rotator Cuff Injury
If you find that your shoulder bothers you at the end of the day, or that the pain in your shoulder now keeps you from playing with your kids, you may have a rotator cuff injury. Many people suffer from this pain, but you don't have to! Advanced Kinetics has been the leading sports physical therapy in the Washington DC metro area with two convenient locations in Falls Church and our brand new facility in McLean. Call us at today to schedule an appointment
This blog will help you get the most out of your physical therapy and the community of Advanced Kinetics Physical Therapy and Sports Performance. AKPT is reinventing physical therapy, embracing all aspects of movement from treatment, into recovery and on to injury prevention. You may read this and think of your friends, family and coworkers. You may realize that AKPT can do more for you than you previously knew. Read. Share. Act. Use this reinvention of physical therapy to reinvent yourself and your peak performance.
Advanced Kinetics – Reinventing Physical Therapy