Leave it all out there in class? Not feeling quite yourself? High-intensity interval training is a great way to burn calories, have fun, and build strength in ways traditional gym exercise cannot. But what happens when you stop recovering like you used to? In any activity that involves plyometrics, full body exercises, and rotation, these activities can place a lot of stress through your joints and muscles. It's important to incorporate additional aides and low-load workouts in order to manage soreness and recovery efficiently.  You also stay ahead of any potential problem areas so that you can continue to give your all. No one likes to be slowed down by overuse injuries!
Common overuse injuries include tendonitis, rotator cuff strains, and lower & mid back strains. If these areas sound familiar, visiting a physical therapist may be helpful to rule out any serious injury first. You will receive one on one treatment, and get a personalized exercise program so you can address strength or mobility deficits that could predispose you to these types of overuse injuries. Your body can be an incredible machine to do amazing things, let's take care of it.
One of the many ways physical therapists aid in recovery is by identifying weaknesses and imbalances.  We can teach you proper form and improved ability to sustain your activity levels.   Eccentric exercises are commonly used in order to build strength in muscles and tendons. Eccentric muscle contractions create force while the muscle lengthens such as lowering slowly during a calf raise. In contrast, a concentric exercise is when a muscle contract with muscle shortening such as a bicep curl. It has been shown that eccentric contractions improve pain and functional outcomes for injuries such as Achilles tendinopathy. Eccentric exercises have also been shown to enhance force production, injury prevention, and functional capacity which will overall improve your sports performance. Your physical therapist will choose exercises that incorporate both eccentric and concentric exercises that will help you return to your path to achieve your fitness goals!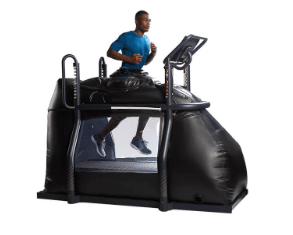 If you have any questions in terms of your preparation, feel you have an injury that has been nagging you or just feel you want to get ahead of the competition, come see us! Not hurt? Our recovery room includes Game Ready compression + Cryotherapy, Vasoneumatic compression, Alter-G zero-gravity treadmill, and Infrared sauna. These state-of-the-art recovery modalities are backed by science to help you recover quicker, avoid injury, and perform at your best.  Allow us to help you get back to being the best you!
This blog will help you get the most out of your physical therapy and the community of Advanced Kinetics Physical Therapy and Sports Performance. AKPT is reinventing physical therapy, embracing all aspects of movement from treatment, into recovery and on to injury prevention. You may read this and think of your friends, family and coworkers. You may realize that AKPT can do more for you than you previously knew. Read. Share. Act. Use this reinvention of physical therapy to reinvent yourself and your peak performance.
Advanced Kinetics – Reinventing Physical Therapy