Prolotherapy is the rehabilitation of an incompetent structure by the induced proliferation of new cells. This is a method of injection treatment designed to stimulate healing and can be used in multiple painful sites such as ligament and tendon insertions, trigger points, and adjacent joint spaces. Prolotherapy works by causing a temporary inflammatory reaction at the site of injury and tricking the body into initiating repair into the tissue that was injured. Some examples of injuries can include tendinopathies, ligament sprains, and/or tears, osteoarthritis, and vertebral disc damage.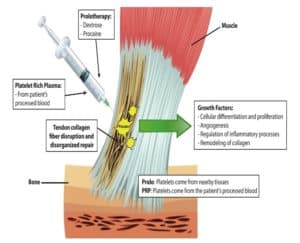 Platelet Rich Plasma (PRP) is a type of prolotherapy that involves the injection of a concentration of plasma into the target tissue. Plasma is a component of blood.  The plasma in blood contains proteins called growth factors that assist with healing. PRP is plasma with a higher concentration of platelets than what is naturally found in blood.  When someone is being prepped to receive PRP injections, that individual's blood is drawn and platelets are separated from other blood cells by a centrifuge in order to produce PRP.  The resulting substance is then injected into the area that requires healing in order to speed the healing process. PRP promotes the enhancement of bone remodeling, proliferation, vessel remodeling, angiogenesis, inflammation, coagulation, and cell differentiation. 
The healing process can be broken down into different phases including homeostasis, inflammatory, proliferation, and remodeling phases, in order to provide some guidelines for recovery. Hemostasis is the process of the wound being closed by clotting. Hemostasis starts when blood leaks out of the body after the injection is completed. The first step of hemostasis is when blood vessels constrict to restrict the blood flow. Next, platelets (including those injected) stick together in order to seal the break in the wall of the blood vessel. Finally, coagulation occurs and reinforces the platelet plug with threads of fibrin which are like a molecular binding agent. The hemostasis stage of wound healing happens very quickly.
The inflammatory phase typically happens during the initial 0-3 days following injections, however, can last up to 7 days. No NSAIDs and complete rest is usually prescribed during this phase. Inflammation both controls bleeding and prevents infection. In this phase, the fluid engorgement allows healing and repair cells to move to the site of the wound, including the injected PRP. During the inflammatory phase, damaged cells, pathogens, and bacteria are removed from the wound area. These white blood cells, growth factors, nutrients, and enzymes create the swelling, heat, pain, and redness commonly seen during this stage of wound healing. Inflammation is a natural part of the wound healing process and only problematic if prolonged or excessive.
The proliferation stage can be divided into two separate phases based on time after injections. No NSAIDs up to 4 weeks and relative rest including increased tolerance to ADLs is usually prescribed during this phase. Physical Therapy typically begins anywhere from 7 days-4 weeks after injections are performed. Proliferation phase I usually begins anywhere from 4-14 days after injections. During this time, immune cells release various growth factors and cytokines, fibroblasts begin laying down various collagen tissues, disorganized scar forms with blood vessels, fat cells, fibroblasts, and inflammatory cells and collagen becomes aligned. In Physical Therapy, relative rest progressed to full weight-bearing, gradual progressions with A/PROM, stretches and correct biomechanical dysfunction of all surrounding joints are the main goals. In Proliferation phase II, is 2-8 weeks post injections. During this time, manual therapy focuses on soft tissue mobilization, transfer friction massage to the injection site, and joint mobilizations.  Progression with strength exercises including concentric to eccentric strengthening, progressing weight as well as balance and proprioception after 2 weeks.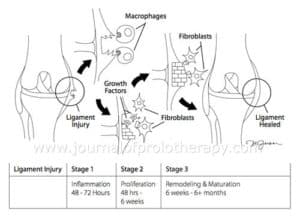 The final phase is healing is the remodeling (maturation) phase which occurs 6-8 weeks post injections. During this phase, the collagen fibers are maturated, the tissue matrix starts to resemble normal tissue alignment. This process can last up to a year. During this phase, activities and exercises are gradually progressed in order to return back to sport and/or normal activity. All functional activities at this phase should be multi-planar movements. Plyometric training including progressing to high velocity/intensive activities are included. Physical Therapy is focused on exercises and is usually decreased to 1x/week. 
Recovery from PRP can vary in terms of what was being treated, whether a tendon, ligament, muscle, cartilage, or bone; as well as where on the body is being treated. Exercise is vital to good health and finding a way to cross-train around your injury is important not only for your physical health but for your mental health as well. Improvements in pain and function should be expected 8 to 12 weeks after injection and some injuries may require more than one treatment. Therefore, it is important to get specific instructions and guidelines from your Physician and Physical Therapist throughout the recovery period. At AKPT all of our PT's are highly trained in rehabilitation post prolotherapy injections.  Ask your PT about prolotherapy today!
Resources: 
https://orthoinfo.aaos.org/en/treatment/platelet-rich-plasma-prp
https://www.ncbi.nlm.nih.gov/pmc/articles/PMC5021733/
Physical Therapy Considerations following Regenerative Medicine Interventions; Chapter 14; Regenerative treatments in Sports and Orthopedic Medicine; Angela Gordon and Kwang Han
This blog will help you get the most out of your physical therapy and the community of Advanced Kinetics Physical Therapy and Sports Performance. AKPT is reinventing physical therapy, embracing all aspects of movement from treatment, into recovery and on to injury prevention. You may read this and think of your friends, family and coworkers. You may realize that AKPT can do more for you than you previously knew. Read. Share. Act. Use this reinvention of physical therapy to reinvent yourself and your peak performance.
Advanced Kinetics – Reinventing Physical Therapy