Over the past few months we have all started to accept our own version of the new normal. With this new normal, many of us are also finding new stressors. Increased stress is very common with any new change in a daily routine or schedule. These new stressors can have a negative impact on one's body, including but not limited to: increased muscular tension, increased muscle soreness, increased heart rate, increased blood pressure, decreased flexibility, poor posture, and many other negative impacts not listed above.  It is important to address our new stressors and not allow them to build up by incorporating daily stress relief. One great way of decreasing stress is a daily stretching routine! Here is a brief outline of the many benefits of stretching and a few of AKPT's favorite stretches to get rid of stress and muscle tension! 
Decrease muscle tension and soreness – Stress can frequently cause increased muscle tension and soreness. The feeling of stress or being on edge causes the muscles to maintain activity. This heightened activity level does not allow our musculature to fully relax, leaving it in a semi-contracted state. Stretching helps relieve this muscular tension which can lead to better sleep and a more relaxed state.  If the hyper-tensed state is prolonged or chronic it can even lead to muscle pain.Muscular soreness can also be caused by a lack of removal of metabolic waste products from the muscle. Stretching helps increase circulation to muscles. The combined effect of improved circulation to muscles and less tension surrounding the circulatory system can help decrease any soreness from lactic acid or other common by-products of muscular contractions.
Improve blood circulation and heart health – It is no surprise that increased stress can lead to increased heart rate and elevated blood pressure. Stretching can help decrease muscular tension which in turn aids in decreasing the pressure surrounding our vasculature system. In regards to blood pressure, decreasing muscle tension helps decrease the resistance our heart has to pump against while trying to move blood around our body. The lower resistance our heart faces causes a decrease in blood pressure throughout our vasculature system. By decreasing the pressure our heart has to overcome while pumping, this decreases how hard our heart has to work. The heart's main job is to pump blood throughout our body to provide oxygenated blood to body systems and remove metabolic waste products. Decreasing the resistance, the heart faces from muscle tension can help lower the work rate the heart must maintain to do its job, thus decreasing overall heart rate! Both of these cardiac benefits from stretching allow our heart to work more efficiently as a pump and combined with a heart healthy diet can improve one's health.
Increase flexibility and improve posture – Stretching can help improve flexibility and poor posture that can come as a result of increased stress levels. When one is frequently stressed out they tend to focus less on their posture or ergonomic set up and more on the ideas that are causing them stress. These prolonged poor postures can lead to decreased flexibility. Honing in on stretching certain areas of the body can improve flexibility and promote improved posture. These areas include the chest, low back, neck, and shoulders.
AKPT's Favorite Stretches: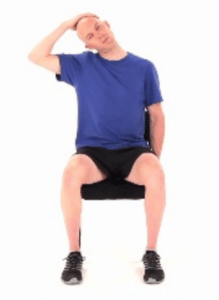 Upper Trapezius Stretch:  Many of us carry a lot of stress in our upper traps and neck region in general. To stretch the upper traps try the following: while sitting in a chair, grasp the edge of a chair with one hand. Then slowly bend your head towards the opposite side. A cueing we like to use at ATKP is "ear to shoulder". You should start to feel a gentle stretch on the opposite side of the way you're bending your neck.
Hold for 30 second for each side – 2x
Levator Scapulae stretch: Another commonly tight muscle due to stress is the levator scapulae. To stretch this muscle, begin by sitting in a chair and grasping the edge of the chair with one hand. Then rotate your head to the opposite side as the hand anchored to the chair and gently bend forward. A cue we like to give at AKPT is "bring your nose toward your armpit". You should start to feel a gently stretch on the back of your and toward the shoulder blade
Hold for 30 second for each side – 2x
Pecs: The pectoral muscles are another commonly tight muscle due to increased stress. Frequently as our stress grows, we are less cognizant of proper posture and we fall into a hunched over position. This tends to place the shoulder in a forward or protracted position causing tight pecs. Luckily there are simple ways to combat pec tightness. For example, the doorway stretch. Start by standing centered in a doorway. Then, with your elbows bent or straight, place your palms or forearms on the side of the doorway. Take a small step forward with one foot and gently lean forward. You should start to feel a nice and easy stretch in the front of your chest and shoulders. Hold for 30 second for each side – 2x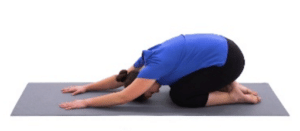 Low back stretches: The child's pose is a quick way to stretch the low back region. Grab a mat or a comfy rug and while on 4's, sit your hips back while reaching your arms overhead and lower your chest to the ground. You should feel a gentle stretch in your low back region. You can also try to slide one hand forward at a time to emphasize different sides of the low back. Hold for 30 second for each side – 2x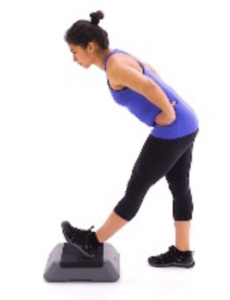 Standing Hamstrings Stretch: Many people have tight hamstrings and it doesn't help that the majority of the work force is sitting in a chair at a desk all day. Lean forward from your hips, and rest both palms on top of your right thigh for balance and support. The standing hamstring stretch targets your rear-thigh muscles. Keep your shoulders down and relaxed; don't round your lower back. You should feel a mild pull gradually spread through the back of your leg. Instructions: Hold for 30 second for each side – 2x
Half Kneeling Hip Flexor Stretch: Begin in a half kneeling position with one knee bent in front of your body. Tighten your abdominals, tilt your pelvis backward, and gently push your hips forward. You should feel a stretch in the front of your hip.Make sure to keep your hips facing forward and back straight during the exercise. Hold for 30 second for each side – 2x
The benefits of a proper stretching routine reach far beyond what was described above. For more information on proper stretching routine, decreasing muscle soreness, and reducing stress through physical activity, Give the Advanced kinetics team a call today to learn more information.
References:
Shinno, H., Kurose, S., Yamanaka, Y., Higurashi, K., Fukushima, Y., Tsutsumi, H., & Kimura, Y. (2017). Evaluation of a static stretching intervention on vascular endothelial function and arterial stiffness.

European journal of sport science

,

17

(5), 586-592. 

Medeiros, D. M., Cini, A., Sbruzzi, G., & Lima, C. S. (2016). Influence of static stretching on hamstring flexibility in healthy young adults: Systematic review and meta-analysis.

Physiotherapy theory and practice

,

32

(6), 438-445.

Pictures of stretches taken from Medbridge Exercise Builder.
This blog will help you get the most out of your physical therapy and the community of Advanced Kinetics Physical Therapy and Sports Performance. AKPT is reinventing physical therapy, embracing all aspects of movement from treatment, into recovery and on to injury prevention. You may read this and think of your friends, family and coworkers. You may realize that AKPT can do more for you than you previously knew. Read. Share. Act. Use this reinvention of physical therapy to reinvent yourself and your peak performance.
Advanced Kinetics – Reinventing Physical Therapy