Over the years our friends, family, and patients have asked us why we do what we do and the simple answer is….we love helping people.
Each of us in some form have been effected by injury or the healthcare system which has steered our careers to become Physical Therapists.  While our paths in getting here are different, we all share one thing in common – make our patients lives better.
AKPT = Patients First!  Always.

I was 18 years old and tore my ACL playing lacrosse. After the first surgery failed due to poor surgical procedure, I spent my college years in physical therapy rebuilding my knee, after multiple surgeries. I always thought I wanted to attend medical school, but during my multiple rehab stints, I ended up meeting a number of PTs who not only helped me get back to running, but changed my perception about this great profession. I realized there was the lack of individualized treatment for an athlete verse a cookie cutter approach and progression to full competition. In the end, I wanted to change this and being a Physical Therapist allows me to treat a variety of patients and enhance the athletic patient population, which has been my passion.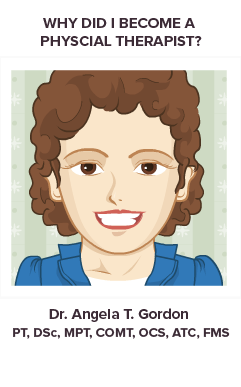 It was in high school that I knew I wanted to be in the medical field and through personal injuries I realized that being a Physical Therapist would provide me the most rewarding patient centered career. I am so blessed to be a PT and have the personal relationship with all my patients that lead to rewarding changes in their daily lives. #AKPT #ChoosePT Angela Gordon

At 12 years old I got a shoulder injury from playing soccer and spent 8 weeks rehabbing in physical therapy. The atmosphere of the gym and equipment always made the experience fun. It was from that point that I knew I wanted to be a Physical Therapist. This professional is an excellent way to work with patients while incorporate wellness and healing and still have a great time.
This blog will help you get the most out of your physical therapy and the community of Advanced Kinetics Physical Therapy and Sports Performance. AKPT is reinventing physical therapy, embracing all aspects of movement from treatment, into recovery and on to injury prevention. You may read this and think of your friends, family and coworkers. You may realize that AKPT can do more for you than you previously knew. Read. Share. Act. Use this reinvention of physical therapy to reinvent yourself and your peak performance.
Advanced Kinetics – Reinventing Physical Therapy