Are you an athlete looking to prevent an injury? Do you have a chronic condition that affects your muscles? Are you recovering from a recent injury? Do you work out frequently and put repetitive strain on your muscles? Then Advanced Kinetics Physical Therapy is happy to let you know that Myofascial Release Therapy or Myofascial Massage Therapy can help provide relief to tightened muscles and aid in lessened pain and injury prevention.
What Is Myofascial Release?
Myofascial release is a technique used to manage myofascial pain. Myo meaning muscle and fascial referring to the connective tissue throughout the body that covers and supports your muscles. Myofascial Release Therapy is a form of massage therapy that is used to treat chronic pain, medical conditions, and provide injury prevention. Myofascial release reduces pain by focusing on easing tightness and tension in the trigger points that are responsible for the pain that is being experienced. Trigger points are specific points within the myofascial tissues where pain can originate. 
What Does A Myofascial Release Do & What Does A Myofascial Massage Feel Like?
A physical therapist will gently massage the myofascia to feel for stiff and tightened areas of muscle. Healthy myofascia will feel pliable so your therapist will focus their attention on tightened areas. Unlike a general muscular massage, the focus is not specifically applied to soothing your muscles but rather focused on releasing tension from your fascial tissues. Your therapist will apply light manual pressure to whatever trigger points are stiff until they feel all of the tension in your myofascial tissue is released. It is important to be aware that a myofascial massage will feel different than a massage designed to soothe your muscles. During the myofascial massage you will feel some pain as your therapist is working to relieve the tension in your muscles. After the massage you will feel some soreness in the areas that were treated but this should go away fairly quickly and after you feel loser in those areas. 
What Does Myofascial Release Therapy Treat?
Myofascial release therapy is beneficial in treating a variety of symptoms of chronic illness and medical conditions. Some of the generalized symptoms that myofascial therapy may treat are:
Stress injuries – Repetitive stress injuries caused by having chronic poor posture or continued heavy lifting.

Trauma – Trauma caused by physical injuries such as falls, or car accidents.

Compressed nerves – Compressed nerves can be caused by conditions such as carpal tunnel syndrome or herniated disks.

Inflammation – Inflammation is a symptom of a variety of conditions including osteoarthritis.

Scarring – Underlying scar tissue developed from burns or surgical procedures.
Some of the specific medical conditions myofascial release therapy can be used to treat are: 
Chronic migraines

Temporomandibular joint disorder (TMJ)

Lower Back Pain

Myofascial pain syndrome

Carpal Tunnel Syndrome

Fibromyalgia
What Are The Benefits of Myofascial Massage?
There are a variety of benefits that myofascial massage can provide. Some of the generalized benefits include:
Stress management and relaxation – Releasing tension throughout the body can lower the psychological impact of stress and allow your body to better relax.

Pain management – Tension released from the trigger points in your muscles will lead to lessened pain.

Improved circulation – The removal of tension and knots eliminates barriers in the musculature allowing for blood and oxygen to move more easily throughout the body.

Increased movement – Healthy and pliable myofascia allow for a better range of motion as there is no tension or pain in your muscles.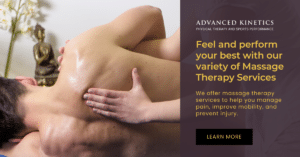 How Does Myofascial Release Therapy Prevent Injury?
When the fascia and muscles are healthy and pliable, there is a reduced risk of injury as injuries can occur when the fascia and muscles are tight. Myofascial release therapy focuses on releasing the tension of the fascial tissue. This can relieve chronic pain and pain from extended use, but will also leave your muscles and fascia stretched and loosened. This will provide the support that your tendons, ligaments, and joints need to be worked with a lower risk of injury. Not only can myofascial release help prevent injury but it can help improve performance as well. Healthy and pliable fascia allows for muscle movement to be unrestricted. This leads to a greater range of motion, strength, and overall performance. 
Where Can I Get Myofascial Release Therapy?
At Advanced Kinetics Physical Therapy we offer a variety of massage therapy services including myofascial release therapy services in Falls Church and McLean, Virginia. If you're interested in learning more about our myofascial release therapy and how it can help you manage chronic pain or help with injury prevention, please get in touch with us!
This blog will help you get the most out of your physical therapy and the community of Advanced Kinetics Physical Therapy and Sports Performance. AKPT is reinventing physical therapy, embracing all aspects of movement from treatment, into recovery and on to injury prevention. You may read this and think of your friends, family and coworkers. You may realize that AKPT can do more for you than you previously knew. Read. Share. Act. Use this reinvention of physical therapy to reinvent yourself and your peak performance.
Advanced Kinetics – Reinventing Physical Therapy